Thunder Road Joins BACS
BACS is delighted to announce the official opening of Thunder Road Adolescent Treatment Center as a BACS program, as of August 1, 2017!  BACS is honored to be bringing our substantial experience and expertise to ensure continuity of a critical community program.
Thunder Road is the only program of its kind. Thunder Road helps youth with mental health and substance use issues, which can prevent lifelong issues including becoming caught in the justice system. BACS' Thunder Road uplifts these youth.
We look forward to connecting with the dedicated Thunder Road community. If you are a supporter or Thunder Road, or someone who has been supported by Thunder Road, you can stay connected to program updates and events by emailing us.
BACS is transitioning this program from our Sutter Health partners who have run it for decades and that it needed a new home and BACS stepped up to the plate to ensure its continuity. Thunder Road, located in Oakland, has served more than 7,000 people since it began in 1987. Thunder Road makes sure nobody falls through the cracks, through intensive inpatient and outpatient services that are proven to succeed. Our BACS team is delighted to bring Thunder Road into the fold of our programs, to keep this crucial Bay Area program in operation. You can read our full announcement here.
CARF Reviews Programs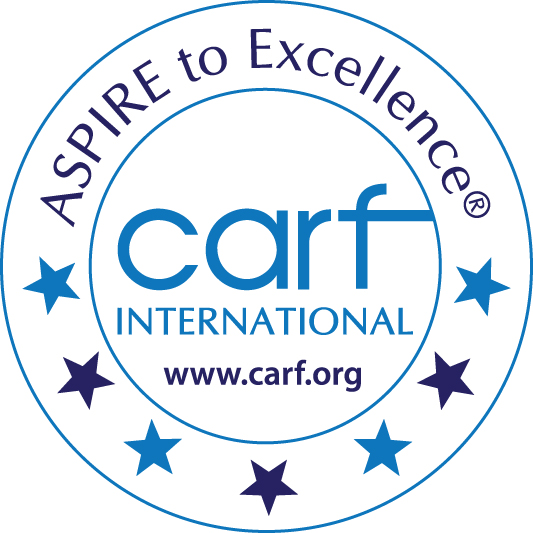 CARF, the Commission on the Accreditation of Rehabilitation Facilities, visited BACS from July 24th to July 27th. BACS was delighted to host CARF at our sites, to demonstrate the quality of performance of our services, and to accept recommendations as part of our Continuous Quality Improvement process.
CARF International is an independent, nonprofit accreditor of health and human services. CARF accreditation focuses on quality, results. The accreditation process applies sets of standards to service areas and business practices during an on-site survey. Accreditation, however, is an ongoing process, signaling to the public that a service provider is committed to continuously improving services, encouraging feedback, and serving the community. Accreditation also demonstrates a provider's commitment to enhance its performance, manage its risk, and distinguish its service delivery.
They are doing a 'deep dive' into our programs, helping BACS achieve excellence!
BACS Annual Staff Appreciation BBQ
BACS celebrates our wonderful staff members each year at our Annual Staff Appreciation BBQ! This year, 120 staff, friends, family members, and pets of BACS spent a beautiful day in the sunshine at Lake Chabot. Our team celebrated each other and the hard work each person has done over the last year. BACS is fortunate to have an incredible, talented, and dedicated staff. Thank you to everyone who came!
Michael Ward, Esq., Joins BACS Team
BACS is welcoming Michael Ward, Esq., as the new Senior Director of Administration!  Michael is retiring after 22 years as an attorney, partner, and managing partner for an Oakland-based law firm where he managed all business operations including finance, IT, marketing and development, facilities, compliance, HR, and also held numerous non-profit accounts for the corporation.  Additionally, he has held board chairpersonships with sister agencies including his current role with Beyond Emancipation, prior board and advisory roles at Fred Finch Youth Center and East Bay Community Law Center.  Earlier in his career, he worked in a residential treatment facility as a rehab counselor and is very excited to step in to our agency to manage our QI and administrative functions.  Michael holds a juris doctor from UC Berkeley School of Law, and a Bachelor of Arts in Political Science from Stanford University.
Host a Party, Help BACS!
Are you hosting an event, and rather than gifts or flowers, planning to ask for donations to BACS?
Evite Donations allows you to add your favorite nonprofit organization (BACS!) to your invitation and let guests donate directly, whether they attend your event or not
When you are creating your Evite, in the event options on the right side of the screen you will see a Donations Options tab. Click it to open, then type "BACS" into the search key. Select Bay Area Community Services, Inc.
Then, guests can make charitable donations directly to BACS! If you need assistance, please email us.
 Valley Wellness Center BBQ
A pleasantly breezy 85 degree day greeted the picnic hosted by Valley Wellness Center. Valley, South County and Hedco Wellness Center communities chipped in supplies such as cakes, cookies, water, potato and macaroni salads, chips.  Hedco filled out two vans with enthusiastic members!
The charcoal grilled hot dogs were a treat.  The scratch made baked beans with left over barbecue rib meat made by Hedco's Member of the Month Mr. V were well appreciated.  There was some football tossing before the heat wilted that idea which was when Kelly brought out her cache of water guns and a bubble machine.  Much laughter was had by all.  The afternoon of fun and play ended with Dave leading Simon Says until he ran out of moves and passed the role of Simon to member Susan.
Employee of the Month
BACS is delighted to honor Tamahtra McClure, Employment Coordinator with our IPS team, as our Employee of the Month!
Tamahtra says "My favorite part of my job would be the end results for the clients that I serve. I am always so touched by watching my client growth and seeing the smile on their faces once they have obtain a job and become more independent. The tears of joy that some of my clients have shed as they didn't think gaining employment or obtaining training was a possibility."
Congratulations, Tamahtra, and thank you for all you do on the BACS team!
Three Program Anniversaries
BACS is happy to celebrate the anniversaries of three of our programs: IPS Supported Employment (2013), OPC (2011), and PEP (2014).
BACS opened PEP, a prevention and early intervention program, to provide brief services for individuals exiting inpatient hospital stays, or experiencing early-stage behavioral health issues, who need support to prevent relapse and promote well-being. PEP was also BACS' first program in Solano, and opened the door for us to provide many more services.
OPC provides outreach, housing and financial support, mental health and care management, substance use, and primary care to individuals who are homeless and have mental health issues.
IPS provides job placement services to help individuals with complex needs find competitive, satisfying, and sustainable employment to uplift them from poverty.
Employees Narcan Training
Drug overdose was the leading cause of accidental death in the U.S. last year – but it is preventable. Narcan, an FDA-approved emergency treatment for opioid overdoses, is one of the best ways to help someone who has overdosed.
BACS is committed to doing whatever it takes to help our community, and we are committed to a harm reduction approach to treatment. Our downtown Oakland program site hosted HEPPAC to do a Narcan training, so that we can help high-risk individuals. BACS' goal is to have at least one person at each site who is trained in Narcan use, to further education around overdose prevention and to save lives.
Join Our Cause
Do you want to join BACS in our mission to uplift under-served individuals and their families by doing whatever it takes?
Donate
Donate to BACS online by clicking here, or via mail to 629 Oakland Ave, Oakland, CA 94612. Make an ongoing impact by donating monthly!
Or, donate gently used blankets, canned goods, and other items to our housing programs. Email us to learn more.
Work Here
BACS services are always expanding, and we are currently recruiting! Check out our job opportunities. Learn more on our website or by calling 510.613.0330.
Planned Giving
Many people leave a charitable gift in their will. Do you want to make a lifetime of impact in the community you care about? Email us to learn more!